coastal infrastructure transformed into 'SEE monster' installation
reused infrastructure
A decommissioned offshore platform in the North Sea is transformed in one of the UK'SEE Monster' the largest public art installations. Visitors to the Tropicana on the Weston-super-Mare coast will be welcome on board for the first time from Saturday 24 September. The installation hopes to spark conversations about reuse and renewable energy sources.
Commissioned by 'UNBOXED: Creativity in the UK', the assemblage spans four levels, each accessible to the public and animated by a ten-metre (thirty-three feet) waterfall. An alternate route through space is provided by a multi-level slide, while a 6000-piece kinetic installation is expressed as shimmering scales. The space also includes kinetic wind sculptures, a coastal wild garden of grass, plants and trees, artist-designed experiments in renewable energy generation, an amphitheater, expansive views from the helicopter deck and a broadcast studio.

SEE MONSTER, part of 'UNBOXED: Creativity in the UK. Thanks to Ben Birchall© PA Media
the transformation of the monster by newsubstance
All in all, SEE Monster rises thirty-five meters (115 feet) above the Weston-super-Mare coast. The ambitious transformation of the industrial structure into a public installation is an unprecedented engineering achievement led by the Leeds-based creative studio NEWS SUBSTANCE. In July, the 450-ton (992,000-pound) platform was transported by sea on a football-field-sized barge to Weston-super-Mare beach, famed for having the second-highest tidal range in the world. It was then craned over the sea wall on prefabricated legs in the Tropicana.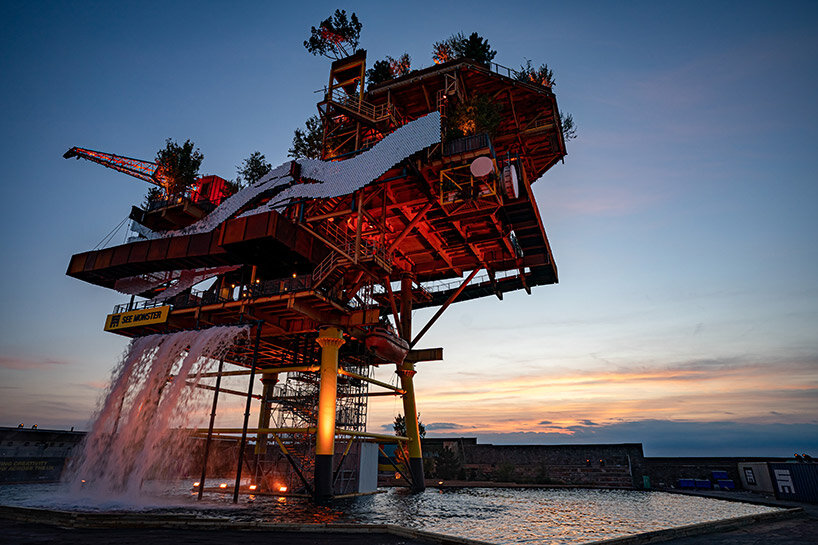 the 'garden lab' by the sea
SEE MONSTER's Garden Lab, will showcase trees up to nine feet tall, plants and grasses selected to withstand salt breezes and Atlantic storms; SEE the roar of MONSTER, the waterfall, will continually recirculate through the pools at the base; and the impact of the weather will be seen and heard as the wind moves through the installations and garden, intended to spark a discussion about the science behind great British weather and how it can support a sustainable future.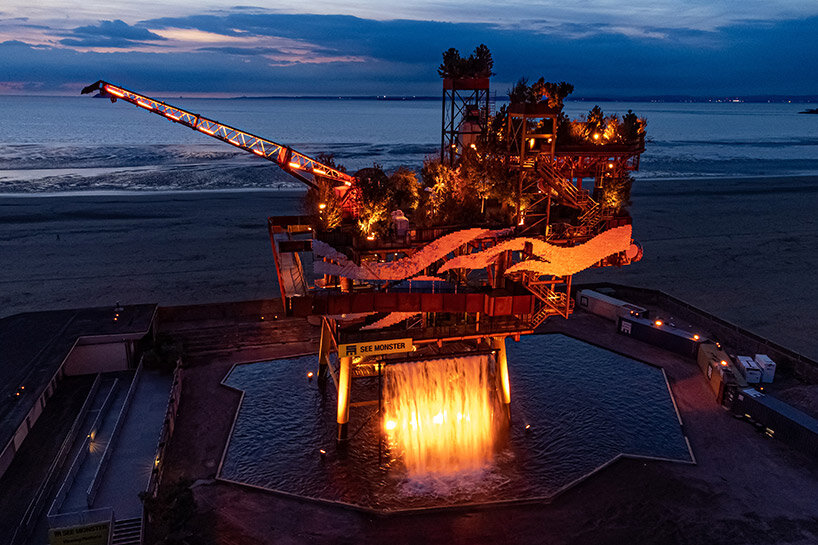 a 'wind nest' of renewable energy
WindNest, designed by artist Trevor Lee, brings together art and renewable energy and consists of two rotating pods in the air, generating clean energy through wind and solar technology that will power the irrigation system for The Garden Lab. WindNest was created in collaboration with Land Art Generator Initiative, an art and design-led renewable energy team seeking innovative solutions to realize a carbon-free future.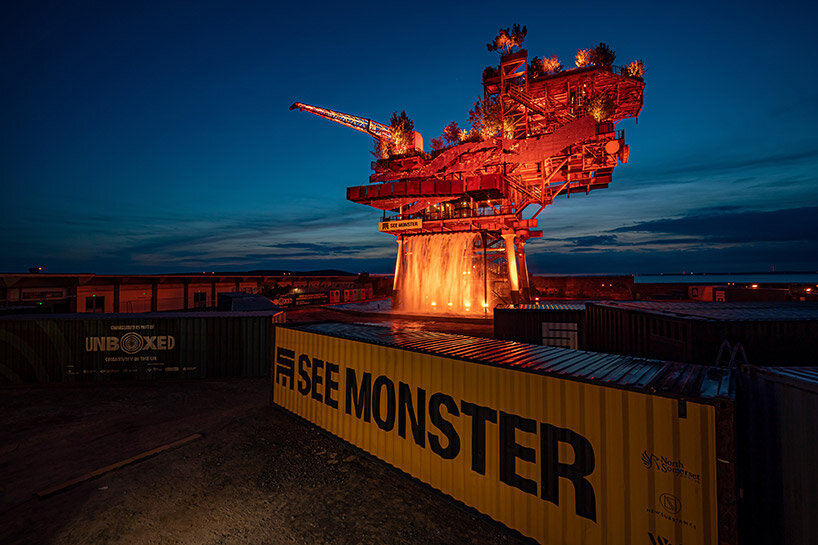 Kinetic sculptor Ivan Black has created two sculptures depicting the sun and moon set in motion by the wind. Parts of the sculptures revolve on their symmetrical axes and are designed to be constantly chaotic but gracefully in motion. Made of aluminum, they are designed to withstand the elements, especially the corrosive salt in the sea air, and to instill a sense of wonder at how they work. Ivan describes them as technical works as much as art, saying: 'I hope they will inspire others to think creatively about technology.'
project info:
project title: SEE Sample
architecture: NEWSUBSTANCE | @newsubstance
Place: Weston-super-Mare, UK
photography: Thanks to Ben Birchall© PA Media