Kengo Kuma's firewood roof for 'snow peak' spa echoes Japan's ridgeline
Snow Peak Field Suite Spa by Kengo Kuma
In the landscape of Sanjo in Niigata, Japanarchitect Kengo Kuma has a complex of spas, villasand restaurants called 'Snow peak Field Suite Spa'. With the aim of promoting a connection with nature, the architecture contains a distinctive roof made from firewood that reflects the backbone of the mountainous environment, creating a smooth transition from the inside to the outside. At the resort, guests are welcome to bathe, dine and recharge where nature bonds with them.

the spa nests into the natural landscape of Sanjo in Niigata, Japan
all images ©︎ Katsu Tanaka
the firewood roof symbolizes the mountains and the camping lifestyle
In Snow peak Field Suite Spa, Kengo Kuma has incorporated a variety of scrap materials and corten steel from a well-known hardware factory in Sanjo, as well as mud walls painted with the site's soil. The roofing is the most striking feature of the project, made precisely to resemble the ridge and in particular Awagatake, one of Japan's most iconic mountains, which towers in front of the structure. The Japanese architect covered the eaves of the structure with firewood in an effort to reflect the natural environment and camping lifestyle.
'By seamlessly connecting 20,000 firewood inside and out, we were able to give a 'wildness' that you don't find in ordinary architecture.' Kengo Kuma Shares.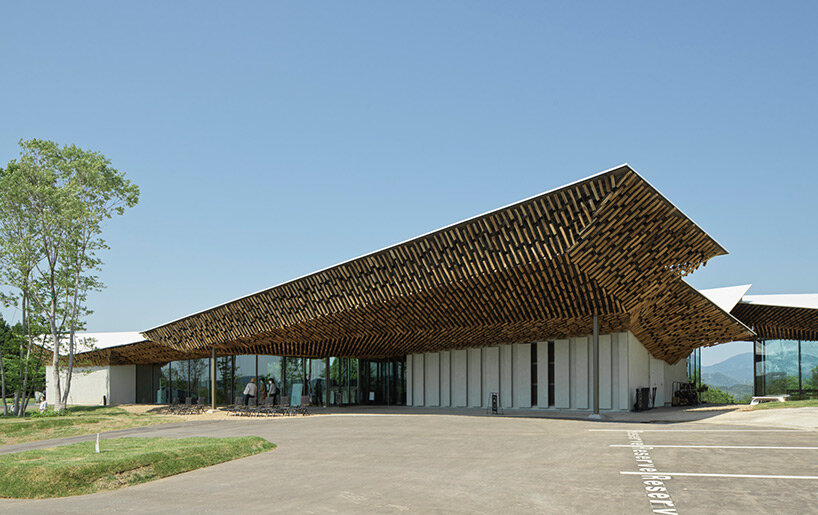 the architecture includes a distinctive roof made of firewood
bathing in the landscape
The spa integrates a natural hot spring that gushes into the natural landscape of Shimodago. The main public bath is designed to create vistas of the natural landscape for guests to enjoy from the indoor pool, open air bath, laundry room and sauna. 'Bath in nature, immerse yourself in the seasons' the Snow Peak Field Suite Spa invites on its official website. 'In an environment where you can feel the happiness of playing in the field with your five senses, you can slowly merge into nature.'
A calm atmosphere is created by the charcoal-colored wood that clambers around the sauna room. With a panoramic view of glass, visitors can experience the beauty of the four seasons, such as the contrast between bright green in spring and pure white snow in winter. A 360-degree sauna heater is used in the center of the sauna room, allowing visitors to enjoy time around the bonfire while also enjoying the sauna.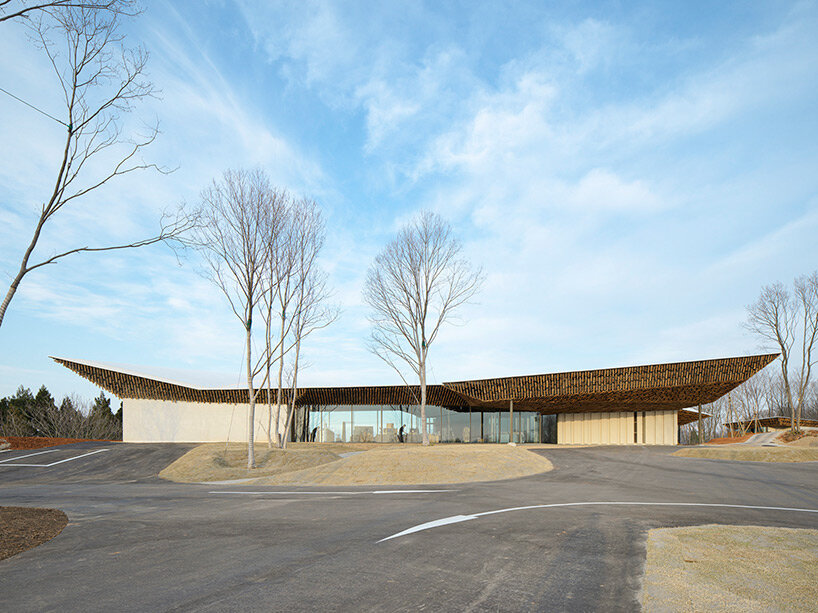 the roofing is the most striking feature of the project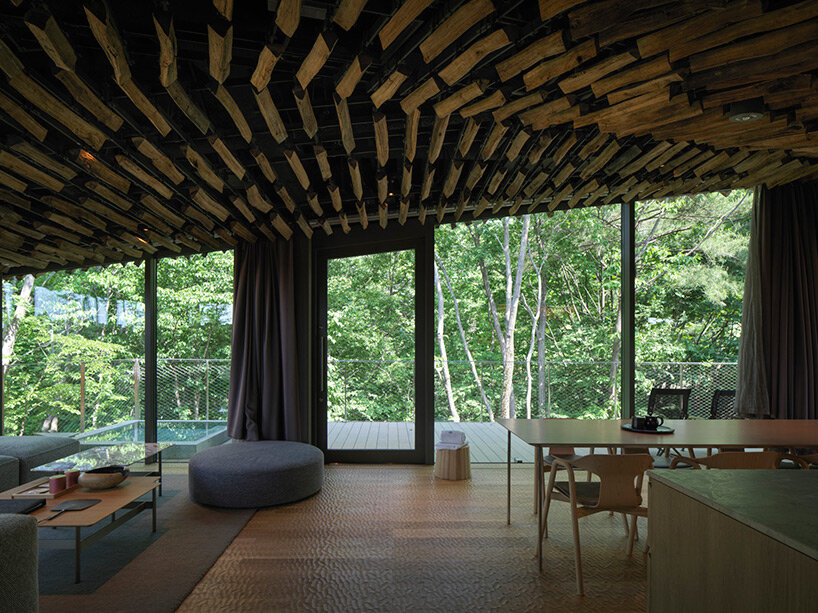 20,000 firewood were placed both inside and outside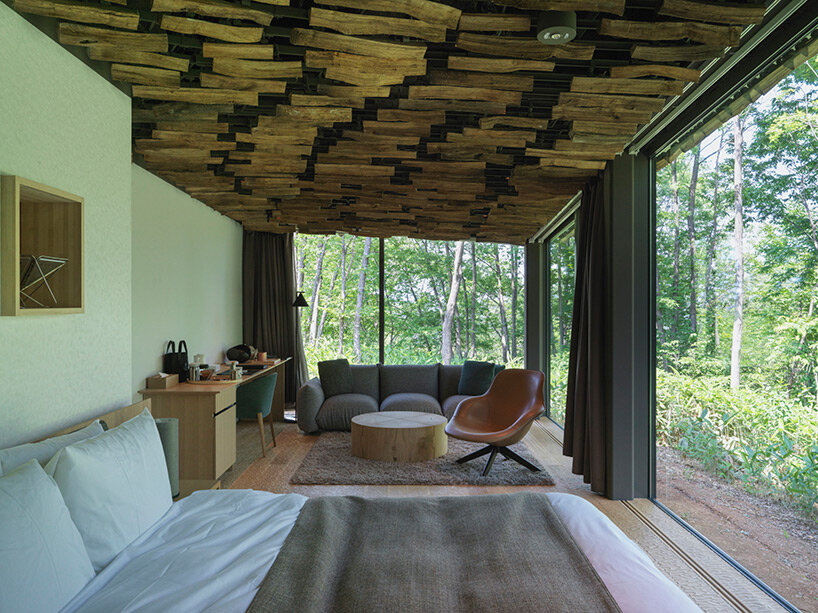 the design encourages guests to form a close bond with the natural environment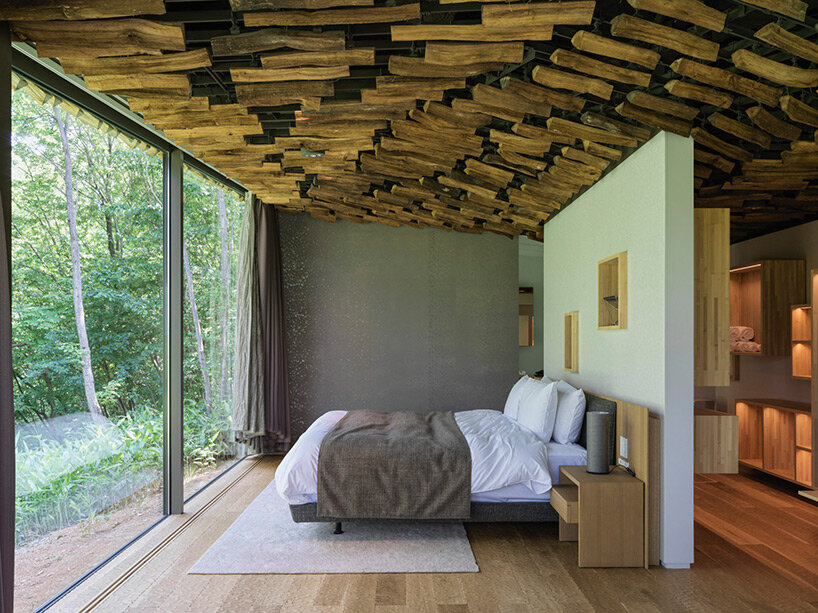 according to Kuma, the firewood roof adds a touch of 'wildness' to the architecture